Baron Ironblood is the leader of the Red Shadows, sworn enemies of Action Force. According to Battle Action Force his real name and birthplace are unknown (though a detailed comic book backstory, which featured in an early Battle Action Force annual, places him of possible Swiss descent).[1]
In addition, Ironblood's
datafile
(as it appeared in
Battle Action Force
) states that his "primary military speciality" is
organisational military strategy
and that his "secondary military speciality" is that he is a
born leader
.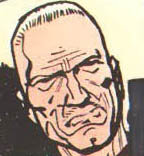 Ironblood was said to be...[2]
Twisted criminal brain dreams of world dominance. Noted for hypnotic control over men, his madness leads to wild fury in defeat, often taken out on his own troops.
He is also described as a:[2]
Genius of Evil. Ironblood's sworn intent is to destroy all organised government in Europe.
Ironblood was said to be the culprit of several armed revolutions in Latin America[3] and was previously a South American-based warlord.[4] The Battle Action Force Annual 1985 gives a more detailed investigation into the Baron's past, provisionally identifying him as Marcus Kassels, the disgraced son of an aristocratic Swiss diplomat whose family motto is 'Singueno Ferris'-Our blood is of iron. After studying nuclear physics at Oxford university and serving as a paratrooper officer in the British Army he would join the US Army and lead a unit nicknamed 'The Baron's Brigade' during the Korean War, specialising in behind the lines revenge operations. Accused of a massacre of civilians he fled and formed his own mercenary army, fighting all over the world including possible involvement in the Congolese civil war, the Bay of Pigs and numerous other conflicts. Towards the end of the Vietnam War numerous shells and rockets which fell on American positions bore the inscription 'Singueno Ferris'.
The Baron is said to be a man of scholarly tastes, has an passion for chess, an expert in fine wines and published a book on the flora of South America.    
In addition, he uses hypnotic control to indoctrinate the Red Shadow soldiers.[2][3]
Fiction
Comics continuity
In later editions of the Battle Action Force series,[5] Ironblood betrays the Red Shadows, leaking information about their bases and intentions to the United Nations.[1] As the Shadows are wiped out, Ironblood goes into hiding and constructs a new identity for himself, undergoing a mithridatisation process and becoming Cobra Commander before creating Cobra as a new enemy force.[1][5]
Toys
Generation 1

---

Appearance: white hair and black goatee, all white suit (jacket and trousers), red 'V' design on the torso with white Red Shadows insignia, Long black boots.

Accessories: Black Ned Kelly-style helmet with small slot opening for vision, black uzi.

---
Trivia
In West Germany, he was known as Baron Eisenblut.
External links
References
↑ Cite error: Invalid <ref> tag; no text was provided for refs named Data