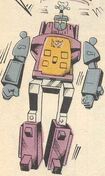 Bombshell is a Transformer, a villainous Decepticon from the planet Cybetron. An Insecticon, he transforms into a boll weevil.
Is this all there is?!!
---
This character article is a stub and is missing information. You can help Joepedia by expanding it.
Trivia
Bombshell was voiced by Michael Bell in the Transformers cartoon. Bell was the voice of Duke in the Sunbow G.I. Joe cartoon.