A river is flooding but who is the flying man coming to the rescue?
Issue summary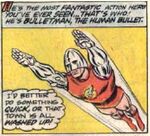 Eagle-Eye G.I. Joe is being flown by Mike Power, Atomic Man, when he sees a river overflowing and threatening to flood a town. They head towards the scene but suddenly see a flying man who "looks like he's made of steel!" The new arrival is Bulletman, who smashes through a mountain to cut out a large piece which he uses to block the river. Later he lands and meets with Joe and Mike. They suggest that he should join the Adventure Team as "with Joe's eagle-eyes, my atomic power and your arms of steel, Bulletman, we'd be invincible!" Bulletman agrees and suggests that between the three of them they will be "the Super Adventure Team!"
Featured Characters
Errors
Items of note
Footnotes
Ad blocker interference detected!
Wikia is a free-to-use site that makes money from advertising. We have a modified experience for viewers using ad blockers

Wikia is not accessible if you've made further modifications. Remove the custom ad blocker rule(s) and the page will load as expected.