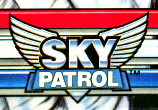 Sky Patrol was a G.I. Joe subgroup that debuted in 1990. Its primary selling points were past G.I. Joe and Cobra vehicles redecoed with a metallic-silvery coating (which, according to the packaging, gave the vehicles stealth capability) and retooled figures (each with a newly sculpted head) that came with a silvery parachute.
Personnel
A Real American Hero (1990)
International
In Brazil, where Sky Patrol was called "Patrulha Do Ar," there were four exclusive figures (two G.I. Joes, two Cobras) that were retools of previous G.I. Joe figures, but didn't feature any new parts.
Vehicles
External Links
Subcategories
This category has only the following subcategory.
Pages in category "Sky Patrol"
The following 7 pages are in this category, out of 7 total.
Media in category "Sky Patrol"
The following 6 files are in this category, out of 6 total.
Ad blocker interference detected!
Wikia is a free-to-use site that makes money from advertising. We have a modified experience for viewers using ad blockers

Wikia is not accessible if you've made further modifications. Remove the custom ad blocker rule(s) and the page will load as expected.