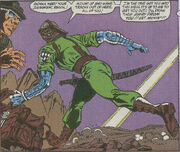 A member of the G.I. Joe team specializing in reconnaissance. Cool Breeze joined the Joe team shortly before the Joes fought their biggest battle yet in the Middle Eastern nation of Benzheen. As part of the recon team, Cool Breeze angered Stalker by displaying what he thought was "hubris", or arrogant pride. He believed absolutely that he and the rest of the team were the best at what they do, and couldn't be beaten. Stalker felt Cool Breeze saw the whole operation as a big joke. Cool Breeze seemingly risked his life by placing radio jamming equipment in the path of what he believed to be an enemy helicopter. Though the 'copter, turned out to be full of Joes, Cool Breeze still impressed the Joes with his selfless actions. When the rest of his team picked him up, Cool Breeze saw the rebel leader Faoud aiming to shoot Stalker. Cool Breeze tried to stop the rebel and took the bullet meant for Stalker, dying moments later. Along with the other Joes who died in Benzheen, Cool Breeze was given a hero's funeral in Arlington National Cemetary. (#111, 112)
Ad blocker interference detected!
Wikia is a free-to-use site that makes money from advertising. We have a modified experience for viewers using ad blockers

Wikia is not accessible if you've made further modifications. Remove the custom ad blocker rule(s) and the page will load as expected.