We need visual confirmation
---
This article is in need of images.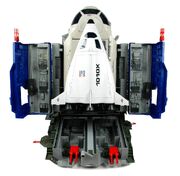 The Defiant is a G.I. Joe shuttle complex from the A Real American Hero series.
Features
The Defiant is a large shuttle complex consisting of a moving gantry that is able to elevate and launch the shuttles from any location, and is housed in the second iteration of The Pit in the Marvel Comics continuity. The shuttles consist of a booster and a smaller shuttle that sits atop it.
Fiction
Comics continuity
Real American Hero continuity
Marvel Comics Continuity
The Defiant first appeared in issue #65, in which it was used to prevent a Cobra shuttle from attacking a satellite that was picking up data on a secret event happening on Earth.
Animated continuity
    Write up

Ballantine books continuity
Toys
Toy editions
The Defiant playset is one of the larger R.A.H. toys that was released, consisting, in three parts, of the smaller shuttle, the booster shuttle, and the gantry/platform, all of which could be separate parts capable of detaching or attaching from/to one another. Both shuttles opened up to reveal interior playset areas that included computer terminals, walkways, and, in the case of the smaller shuttle, a crane arm. Both shuttles were armed with laser cannons, and the gantry was outfitted with a number of turrets. The launch pad on the gantry could be raised to a vertical position for launch, revealing the interior facilities of the base, with a number of pegs for character placement.
The smaller shuttle had retractable landing gear.
The set is the only Joe vehicle to come with two figures; Hardtop, the Gantry driver, and Payload, the astronaut.
Re-uses/re-makes
The smaller shuttle was reused and slightly recolored in 1989 to produce the Crusader shuttle. Several panels, including the cockpit, were painted black and the windows now had a gold tint to them. This version came with a recolored version of the drone which attached to the Cobra Night Raven, used here as the Avenger Scout Craft. This version also included a slightly repainted version of Payload.
External links
    Write up

Footnotes
Where are the schematics for this?!
---
This vehicle/weapon article is a stub and is missing information. You can help Joepedia by expanding it.