You call this a report??!!!
---
This comic issue article is a stub and is missing information. You can help Joepedia by expanding it.
G.I. Joe #6
Attribution
Writer(s)
Penciller(s)
Letterer
Colorist
Cover artist

Tom Feister (cover A)
Will Rosado (cover B)
Robert Atkins (cover RI)

Editor
Publication information
Publisher

IDW

Publication date
Pages

22

General information
Continuity
Series
Preceded by
Followed by
"
The Cobra Civil War takes no prisoners! The recently captured submarine cruiser, The Tuna is under a cyber-attack that could send it to the bottom of the sea with a full crew of Joes aboard! And Flint and Team Alpha are on the run with the Baroness their captive. And their only sanctuary may just be the deadliest place on Earth for the Joes: Springfield.
"

—The description as originally solicited by IDW Publishing.
Detailed summary
Synopsis not yet written.
Appearances
Featured Characters
(Numbers indicate order of appearance.)
Memorable quotes
Other notes
Errors
If the Joe on the helicopter wearing the helmet that reads "P-Face" is supposed to be Pokerface, he lost his big mustache since last issue.
Items of note
No special items of note.
Real-world references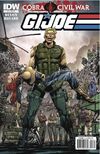 Footnotes and References