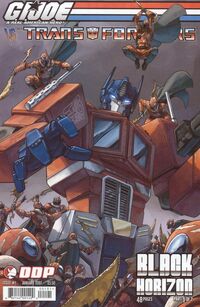 G.I. Joe vs. the Transformers: Black Horizon was the fourth and final limited series published by Devil's Due that combined the worlds of G.I. Joe and the Transformers. It was published in 2007.
The story was particularly notable for its use of traditionally unpopular elements from both franchises, including the Cobra-La civilisation and even some characters from the Lunartix Empire.
Trivia
Overview
G.I. Joe vs. the Transformers: Black Horizon issues
#1 | #2
References
Where's the rest of the information??!!
---
This article is a stub and is missing information. You can help Joepedia by expanding it.
Ad blocker interference detected!
Wikia is a free-to-use site that makes money from advertising. We have a modified experience for viewers using ad blockers

Wikia is not accessible if you've made further modifications. Remove the custom ad blocker rule(s) and the page will load as expected.