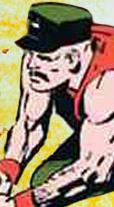 Gaucho
is an
Action Force
character. His real name is Chico Gonzalles and was born in Mexico City, Mexico. He's the Z-Force mechanic. He's a former circus strongman and the strongest soldier in Action Force.
The original Gaucho figure was an UK repaint of Gung-Ho who came with the Action Force Command Center alongside with Jammer. He came without accessories. A different Gaucho figure was released for Joecon 2010 as part of the Vacation in the Shadows theme.
Ad blocker interference detected!
Wikia is a free-to-use site that makes money from advertising. We have a modified experience for viewers using ad blockers

Wikia is not accessible if you've made further modifications. Remove the custom ad blocker rule(s) and the page will load as expected.