Ad blocker interference detected!
Wikia is a free-to-use site that makes money from advertising. We have a modified experience for viewers using ad blockers

Wikia is not accessible if you've made further modifications. Remove the custom ad blocker rule(s) and the page will load as expected.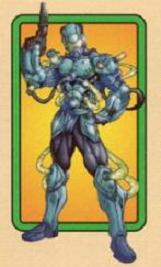 Write up
Bio
If it fogs photographic film and makes your shorts glow in the dark, the Cobra Heavy Water troopers know that to do with it. The most feared division of the Toxo-Viper troopers (a.k.a. the "leaky suit brigade", most of these guys trained at secret facilities in the former Soviet Union. It was there that they worked as repair technicians at power plants and weapons labs of renegade and outlaw states, which were desperate for anyone who seemed to know what he was doing, to come and deal with their leaking reactors and unstable munitions stockpiles. In other words, they were the best at working with the worst. Heavy Water suits are composed of lead foil and ultra-dense composites in multiple laminations, with self-contained cooling systems that also serve to theoretically wash away dangerous accumulations of radioactive materials. They slosh when the walk and sound as if they're gargling when they speak, but Cobra troops know enough to step out of their way when they come down the corridor.
Fiction
Comics
A Real American Hero continuity
Marvel Comics continuity
   Write up

Devil's Due Comics continuity
   Write up

G.I. Joe Reloaded
   Write up

G.I. Joe vs. Transformers
   Write up

Action Force (British) Comics continuity
   Write up

Blackthorne Comics continuity
   Write up

Dreamwave Comics continuity
   Write up

Hasbro Comics continuity
   Write up

Animated continuity
Sunbow animated series
   Write up

DiC animated series
   Write up

Direct-to-video series
   Write up

Sigma 6 animated series
   Write up

Toys
  Write up

Trivia
   Write up

External links
   Write up

Footnotes
   Write up