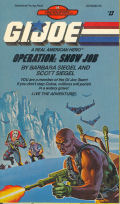 Operation: Snow Job is the thirteenth book in the Find Your Fate G.I. Joe series.
Summary
As Compass, you must lead your team to stop Cobra's plan to flood the world by melting the Polar Ice Caps.
Credits
Author: Barbara & Scott Siegel
Cover Art: Hector Garrido
Interior Art: David Henderson
Published: January 1987
Ad blocker interference detected!
Wikia is a free-to-use site that makes money from advertising. We have a modified experience for viewers using ad blockers

Wikia is not accessible if you've made further modifications. Remove the custom ad blocker rule(s) and the page will load as expected.