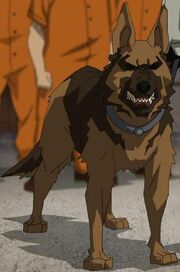 "
Thanks, I'm thinking about getting a dog.
"

—Flint, after being rescued by Law and Order.
In the G.I. Joe: Renegades episode "Busted." Order is the faithful yet ferocious canine companion of prison guard Christopher Lavigne. Order is as displeased as his master with the warden's illegal fight activities. When Flint and Lady Jaye storm the prison, Order takes down Granger (the Captain of the Guards).