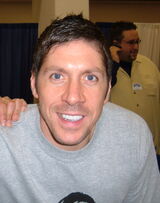 Ray Park is a British actor and stunt man who shot to fame for his portrayal of Darth Maul in Star Wars: Episode I - The Phantom Menace. He is also an accomplished martial artist who has won several awards in many tournaments.
Biography
Park was born August 23, 1974, in Southern General Hospital in Glasgow and lived in the Govan area until the age of seven, when he and his family moved to London. It was at this age that he started training in Northern Shaolin Kung Fu. Seven years later he would also start training in wushu and gymnastics. He has since earned his second-degree black belt in Northern Shaolin Kung Fu. He has competed many times in martial arts competitions and brought home many awards for them including, at the age of 16, the United Kingdom's Martial Arts National Championship for his group. He competed as part of the British wushu team at the 1993 World Wushu Games in Malaysia.
He began working in movies as a stunt double for the movie Mortal Kombat: Annihilation, doing the stunts for both Robin Shou and James Remar. Park also did some cameos as monsters, including Baraka. All of these were non-speaking roles.
In 1999, Park appeared in Star Wars Episode I: The Phantom Menace, as the Sith Lord Darth Maul. While the character had a few lines, Park's voice was dubbed over with that of actor Peter Serafinowicz.
In addition to this acting work, he has also been Christopher Walken's stunt double for the movie Sleepy Hollow. Park appeared in the scenes where the Headless Horseman appears without his head.
Park had his first real speaking part in X-Men as Toad. In one scene of this film, after sending Storm (Halle Berry) down an elevator shaft, he picks up a length of pipe and swings it around in much the same way he swung his dual-bladed lightsaber as Darth Maul, a signature wushu movement.
Ray Park was among the earliest announcements as to who would be in the cast of G.I. Joe. He takes on the role of Snake-Eyes.[1] Park has enjoyed the role so much that he actually approached IDW Publishing about expanding the character's story in a spin-off comic book mini-series. The comic is scheduled to release sometime in the fall of 2009.[2]
External links
References
Ad blocker interference detected!
Wikia is a free-to-use site that makes money from advertising. We have a modified experience for viewers using ad blockers

Wikia is not accessible if you've made further modifications. Remove the custom ad blocker rule(s) and the page will load as expected.