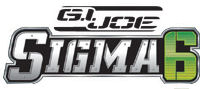 G.I. Joe: Sigma 6 is a line of military-themed action figures and toys which appeared in the fall of 2005. The line is produced by Hasbro and continues the theme and characters established by G.I. Joe: A Real American Hero.
G.I. JOE action figures made the jump to the larger (approximately 8 inch) scale and given more articulation, replacing both 3 ¾ inch action figures and 12 inch action figures in retail stores.
To compliment the surging 8-inch line of Sigma 6 action figures and vehicles, Hasbro introduced an all-new line of 2 ½ inch Mission scale action figures. Each set of action figures is packaged as a "mission in a box," and includes a Mission Manual.