Talk:Mainframe (RAH)
2,477pages on
this wiki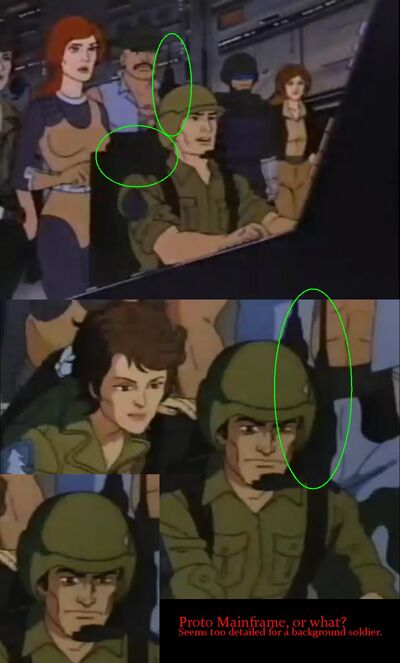 I have two screencaps from the 1984 "Revenge of Cobra" showing what could be a prototype of Mainframe wearing what looks very much like his Brazilian Mission outfit (olive drab) but with a Breaker Helmet and mouthpiece. It's clearly NOT Breaker - he has no beard, an OD uniform, and a backpack that looks very much like Mainframe's first edition backpack.
The scene takes place starting at about 17 minutes into the whole miniseries (which would place it near the end of the first episode, roughly).
I've already gone through the list of released Joes at the time, and none of them match. Here's the images, with his face in-set to the side. Backpack details have been highlighted. He was never referred to by name. —The preceding unsigned comment was added by NeoTerraNova (talk • contribs) 13:26, June 18, 2012 (EDT).
Ho-ho! A character I honestly didn't know existed! I honestly thought that was Mainframe, since he lacked a moustache (which would disqualify him as Dial-Tone). Thank you kindly, Starfield. Shame they never made HIM into a toy at the time.
Mainframe Was A Marine.
Edit
If you look at Sgt. Blaine "Mainframe" PARKER'S later helmet (anything past his first meeting with Ƶarana, at very least), you notice a curious device; And Eagle Globe And Anchor. That's the Marine Corp's emblem. I can't say Hasbro/Sunbow meant for that to be the case (since they had a bad habit of doing a lot of "different" things), but he was a Marine. He was also the first Joe to openly admit he was in Viet Nam (first season). AJ REDDSON