The name Torch refers to several versions of the same character.
For a list of the other versions, see Torch.
We need visual confirmation
---
This article is in need of images.


Torch is not particularly smart but what he like to do, though, is to see things burn. As such, his favorite weapon is his trusty flamethrower. His other favorite is his motorcycle.
Fiction
Comics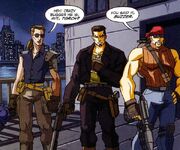 Animated continuity
Toys
Trivia
External links
References