The name Torch refers to several versions of the same character.
For a list of the other versions, see Torch.
We need visual confirmation
---
This article is in need of images.


Torch is not particularly smart but what he like to do, though, is to see things burn. As such, his favorite weapon is his trusty flamethrower. His other favorite is his motorcycle.
Fiction
Comics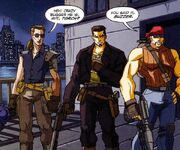 Animated continuity
Toys
Trivia
External links
References
Ad blocker interference detected!
Wikia is a free-to-use site that makes money from advertising. We have a modified experience for viewers using ad blockers

Wikia is not accessible if you've made further modifications. Remove the custom ad blocker rule(s) and the page will load as expected.