The description as described in Devil's Due's solicitations is as follows:
World War III: Part 7 (of 12) Things have never been this desperate! The team is on the run from their utter Cobra counterpart: the Plague continues to hunt G.I. Joe! Their strategy: start with who they see as the weakest member - Wild Bill! Plus - the war brings more surprises: Zartan and the Dreadnoks get involved! An unexpected ally within Cobra! A piece of Cobra Commander's past takes the spotlight! The most ambitious G.I. Joe story continues!
Issue summary
Featured Characters
Featured Vehicles & Equipment
Errors
Trivia
Items of note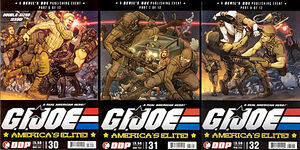 Footnotes
You call this a report??!!!
---
This comic issue article is a stub and is missing information. You can help Joepedia by expanding it.
Ad blocker interference detected!
Wikia is a free-to-use site that makes money from advertising. We have a modified experience for viewers using ad blockers

Wikia is not accessible if you've made further modifications. Remove the custom ad blocker rule(s) and the page will load as expected.