Where's the rest of the information??!!
---
This article is a stub and is missing information. You can help Joepedia by expanding it.
After the M.A.S.S. Device incident the Joe team decided to upgrade the V.A.M.P. (Vehicle: Attack/Multi-Purpose) enter the Mark: II. Aside from a new paint job the team decided to replace the synchronized dual barrel 7.62mm machine gun with a quad-bay missile launcher armed with 4 stinger XK2 missiles. Removable armored doors and roof were also added.
Vehicle profile
   Write up

Features
   Write up

Fiction
Comics continuity
    Write up

Animated continuity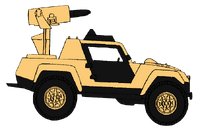 Write up

Toys
Toy editions
    Write up

Re-uses/re-makes
    Write up

External links
    Write up

Footnotes
    Write up