The description as described in Devil's Due's solicitations is as follows:
While Cobra's control on the globe tightens, Cobra Commander's blood is spilled! What betrayal strikes within the core of Cobra? While desperately trying to survive attacks from Cobra's elite Plague unit, the G.I. Joe team begins a desperate mission: find the enemy that has the key to ending the war! Plus: the origin of Agent Delta!
Issue summary
Featured Characters
Featured Vehicles & Equipment
Errors
Trivia
Items of note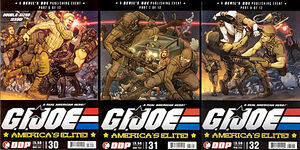 Footnotes
You call this a report??!!!
---
This comic issue article is a stub and is missing information. You can help Joepedia by expanding it.
Ad blocker interference detected!
Wikia is a free-to-use site that makes money from advertising. We have a modified experience for viewers using ad blockers

Wikia is not accessible if you've made further modifications. Remove the custom ad blocker rule(s) and the page will load as expected.