We need visual confirmation
---
This article is in need of images.
The Water Moccasin is a Cobra vehicle from the A Real American Hero series.

Features
Write up

Fiction
Comics continuity
Write up

Animated continuity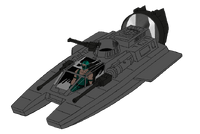 Write up

Toys
A Real American Hero (1984)
The Water Moccasin was offered as a toy with Copperhead packaged with it. The boat floated and featured a depth charge. Although it was essentially a PT boat, it was offered as an answer to both the W.H.A.L.E. and the S.H.A.R.C.. It was later offered as a mail order item.

---
Re-uses/re-makes
Write up

External links
Write up

Footnotes
Where are the schematics for this?!
---
This vehicle/weapon article is a stub and is missing information. You can help Joepedia by expanding it.